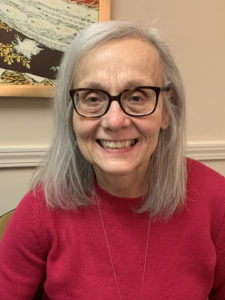 Mary Lou has been providing behavioral health services for over 30 years. Evansville has been her home since June 1993. Her therapeutic style is to work in collaboration with clients; whether that is with an individual or with parents and their children.
Mary Lou works with:
Children (ages 8-12)
Adolescents
Adults (up to age 65)
She utilizes an integrative treatment approach when working with individuals and families who have the following presenting problems/concerns:
Adjustment to life changes
Anxiety
Conflict in home and/or school
Depression
Emotional eating and/or body image concerns
Trauma resolution
Women's issues
She received her MSW from West Virginia University School of Social Work after completing an undergraduate psychology degree from Wheeling Jesuit University.  In 2000, she was awarded the NASW Social Worker of the Year Award, Indiana Chapter, Region 8.  She also received the Yvonne Williams Award of Merit for Innovative Service to the Profession of Play Therapy in 2013 from the Indiana Association of Play Therapy.
Mary Lou is a member of the National Association of  Social Work (NASW) and the Association for Play Therapy.